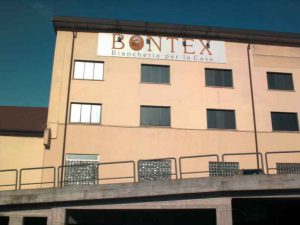 LANA PER PASSIONE
A PASSION FOR WOOD
Bontex è un'azienda lombarda situata in Valle Seriana, zona nella quale è radicata da generazioni la tradizione tessile. L'azienda si caratterizza nella proposta di biancheria fine per la casa ed è particolarmente specializzata nel settore delle coperte in lana merino, coordinati e trapunte.

La pluriennale esperienza, l'utilizzo di materie prime selezionate, i contatti con una vasta ed esigente clientela su tutto il territorio nazionale, sono le componenti che hanno determinato, qualificandola, l'immagine della Bontex.

La dinamicità commerciale della Bontex ha permesso all'azienda di perseguire l'obiettivo di una maggiore diversificazione disponendo di una vasta gamma produttiva sia per la distribuzione tradizionale che per le reti di vendita alternative. L'organizzazione generale e la logistica in particolare sono in condizione di rispondere prontamente alle richieste della clientela.

Bontex is a company located in Valle Seriana in the Lombardy region in Italy, an area where the tradition of textiles has been deeply rooted for generations. The company in known for its fine lines for the house and is particularly specialised in the sector of merino wool blankets and coordinated accessories.

The Bontex name is characterized by years of experience, by using first class raw materials and by its contacts with a wide and demanding range of customers throughout Italy.

The commercial dynamism of Bontex enabled this company to pursue the goal of a greater diversification. Today Bontex can produce a wide range of products, suitable both for traditional channels and for alternative sale networks. The general organisation and, particularly, the logistics enable the company to meet promptly the customers' requirements.